Madison Receives Three PHM Education Foundation Grants
The P-H-M Education Foundation has wrapped up the grant announcements for the 2023-2024 school year; and it's been a big year with tons of recipients. Madison was the recipient of three grants for the combined total of $1,329.26!
Physical Education teacher Stephanie Newcomer applied for and received $929.26 to purchase cardio drumming supplies. Cardio drumming helps students advance the development of auditory skill, gross and fine motor skills and a sense of rhythm while maintaining a steady beat, body awareness, coordination and following directions.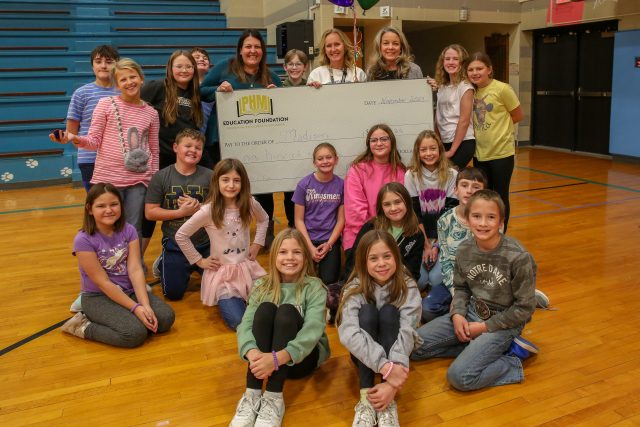 Madison also applied for and received two EZ Grants:
$150 to purchase milkweed plants for monarch butterfly caterpillars
$250 to purchase an iPad for the music room
This cycle the Foundation Grants Committee awarded $42,819.63 in funding to 15 EZ grants and 20 traditional grants. Click here for the full list of funded grants.
PHMEF has moved to one grant cycle per school year, now moved to the Fall, to allow teachers and schools time to put their grant dollars to good use right away.
Executive Director Jennifer Turnblom traveled across the district to surprise various grant recipients with the good news of their funding amount. Grants awarded this year cover a wide array of innovative programs and activities from $10,000 to Grissom Middle School to purchase keyboards for the music room to fishing poles for Penn's Fishing Club.
Click here to see the photo gallery on the District's website of the check deliveries or click to follow PHMEF's Facebook page.
President & First Ladies Wax Museum
We held our President and First Lady Wax Museum on November 29. Even the Secret Service even showed up! Take a look at the photo gallery below …
What Fans Need to Know Before Heading to Penn Homecoming Parade & Game
Friday, September 29 is Penn's Homecoming Parade, Fun Zone, Food Trucks & the Penn football game versus St. Joe. The P-H-M Education Foundation is once again sponsoring all the fun and new this year–FIREWORKS after the football game!
The entire P-H-M community is invited to come out for this fun-filled family event. All the fun starts with the Homecoming Parade. Be sure to grab your spot on the route by 5:00 p.m. Parade starts at 5:30!
Here are some things that will be helpful for families as they head out for all the festivities.
Parking:
Paid Parking ($3 cash) at these lots:

Penn High School (Front Lot & Jefferson Rd. Lot)

Softball/Tennis Lot

Bittersweet School Lot

Free Parking at these lots:

Soccer Lot (Bank Lot)

Pennway Lot

Schmucker Lot (front, Sides & in Back of School)

Fun Zone:
5-7:00 p.m.
Penn Baseball Field
Teacher Dunk Tanks, Jumpies for elementary students
Food Trucks:

Ben's Pretzels
Junbuggies
Keim's Elephant Ears
Kona Ice
Prized Pig
REAL Grille
Rulli's Pizza

Fans will be allowed to take food purchased at the Food Trucks into the stadium. However, no other outside food will be allowed!
Gate & Ticket Info:
Penn vs. St, Joe, Kickoff is 7:30 p.m.
P-H-M students K – 5th grade get in FREE with paying adult!
Tickets are on sale now-Thurs., Sept. 28 online, ticket price is $6 (students & all other age groups same price)
Tickets on Friday, Sept. 29 are $7 (online or at the gate)
PHM Employees plus one guest get in FREE,

but you must have ID badge & the guest must be with the employee

Please remember middle schoolers cannot be dropped off unsupervised. Once in the game, the students are free to walk around. At least one responsible adult must be onsite.
Tickets are sold at the North & South gates only!
Penn All Sports Passes and tickets (hard & online) are accepted at all gates
The Center Gate is reserved for Penn All Sports Passes and online ticket holders only
No Reentry!
Fan Safety:
Please utilize crosswalks when crossing Bittersweet Road after the parade
Rules to Remember:
No reentry to Everwise Field; once you leave, you are not allowed back in.

No outside food or beverages, no insulated cups

No backpacks

Diaper bags & large women's purses are allowed

Penn does

not

have a clear bag policy

No electronic noise makers

No Footballs or Beach Balls

No weapons of any kind

No alcohol

No Smoking/Vaping products of any kind. All PHM school property is smoke free.

No open flames at private tailgating
Info on the Penn Student Homecoming Dance on Saturday, September 30 can found on PHMEF's website. CLICK HERE.
2023 Community Connections Fair to be held Oct. 7
The Penn-Harris-Madison School Corporation's ENL Services' is sponsoring the District's FREE Community Connections Fair!
Come check out what the Mishawaka, South Bend, and Elkhart communities have to offer to your families!
P-H-M is inviting area businesses who want to participate in the Community Connections Fair to sign up. Click here to request a table at the event.
The Fair will also include cultural performances from P-H-M students and families. Families wishing to sign up to perform, click here.
Bilingual interpreters will be on hand at the event to assist those families who need it.
Come out and enjoy the many cultural performances and student work that will be on display representing countries from all over the world!
Please join us! Click here to download and share the flyer.
For more information, please contact:
Rylee Jacobson
P-H-M Elementary ENL Coordinator
(574) 271-8598, Ext. 50913
rjacobson@phm.k12.in.us
document.addEventListener( 'wpcf7submit', function( event ) { var reference = Date.now().toString(36) + Math.floor(Math.pow(10, 12) + Math.random() * 9*Math.pow(10, 12)).toString(36); jQuery('input[name="wpcf7cfpdf_hidden_reference"]').val(reference); }, false );