Madison Receives Three PHM Education Foundation Grants
The P-H-M Education Foundation has wrapped up the grant announcements for the 2023-2024 school year; and it's been a big year with tons of recipients. Madison was the recipient of three grants for the combined total of $1,329.26!
Physical Education teacher Stephanie Newcomer applied for and received $929.26 to purchase cardio drumming supplies. Cardio drumming helps students advance the development of auditory skill, gross and fine motor skills and a sense of rhythm while maintaining a steady beat, body awareness, coordination and following directions.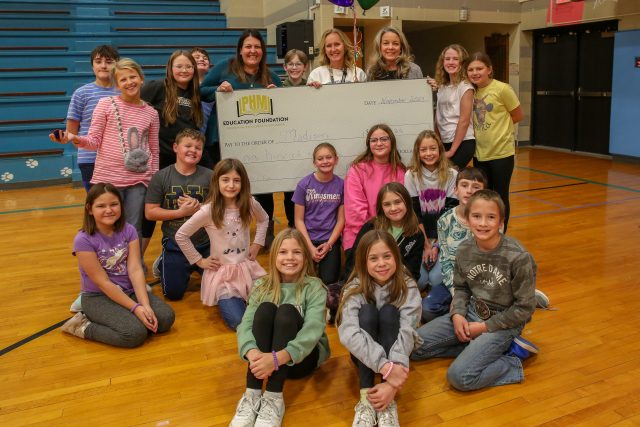 Madison also applied for and received two EZ Grants:
$150 to purchase milkweed plants for monarch butterfly caterpillars
$250 to purchase an iPad for the music room
This cycle the Foundation Grants Committee awarded $42,819.63 in funding to 15 EZ grants and 20 traditional grants. Click here for the full list of funded grants.
PHMEF has moved to one grant cycle per school year, now moved to the Fall, to allow teachers and schools time to put their grant dollars to good use right away.
Executive Director Jennifer Turnblom traveled across the district to surprise various grant recipients with the good news of their funding amount. Grants awarded this year cover a wide array of innovative programs and activities from $10,000 to Grissom Middle School to purchase keyboards for the music room to fishing poles for Penn's Fishing Club.
Click here to see the photo gallery on the District's website of the check deliveries or click to follow PHMEF's Facebook page.
2023-2024 District Activities Calendar
The 2023-2024 District Activities Calendar was mailed to the homes of P-H-M families the last week of July.

The calendar provides key dates for testing, recess breaks, and school specific events (for the schools that provided the information).

You can click here to view a PDF copy of the calendar. You can also view a one-page of the 2023-2024 school calendar that shows the school year at a glance.

The P-H-M District online (Google) calendar is the most up-to-date. You can add this district and any school calendar to your own personal Google calendar.

Each of our 15 schools also maintains an online calendar that is updated frequently with the school's scheduled activities and event details. You'll need to visit your school's website to add that calendar to your personal Google calendar.

document.addEventListener( 'wpcf7submit', function( event ) { var reference = Date.now().toString(36) + Math.floor(Math.pow(10, 12) + Math.random() * 9*Math.pow(10, 12)).toString(36); jQuery('input[name="wpcf7cfpdf_hidden_reference"]').val(reference); }, false );